The VA QSO Party 'High Club Virginia QSOs Only' Plaque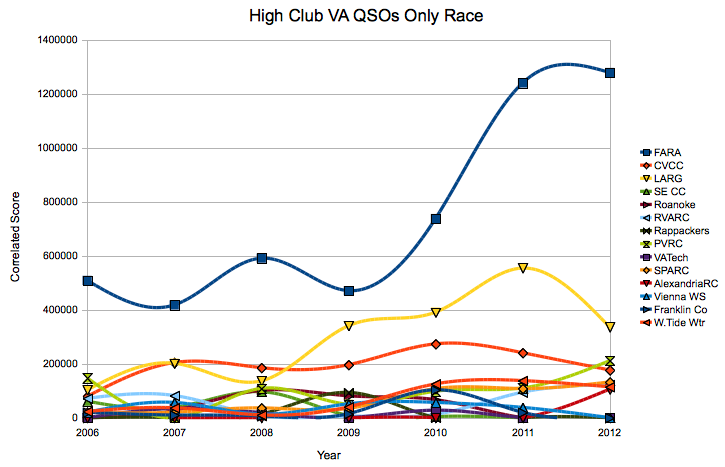 Who will win in 2013?
---
Virginia QSO Party

The Virginia QSO Party is an annual event growing in popularity among hams in Virginia and all across North America. Check out the stats here. This success is due in large part to the excellent stewardship by the Sterling Park ARC. They maintain details for the QSO Party at their Web Site.
If you are interested in the Virginia QSO Party you have probably already seen the nice list of awards available for this "contest" at...

Virginia QSO Party


Two of them are Club Award Plaques:

High Virginia Club Combined Score
High Virginia Club - Virginia QSOs Only

The first simply takes each members score and sums it to a total. The second not only concentrates on Virginia, but also makes a club more of a team effort. For the reasons why read on...

This is really Merged Multi-Multi VA Only

This plaque treats all the members of the club like a large multi-multi station. Each member runs their own station be it VHF FM from Skyline Drive, HF from home, Expedition, HF Mobile, HF Remote Base, VHF Mobile from Grocery store parking lot, whatever. Each member makes QSOs and adds multipliers. After the contest, the logs are combined in such a way that every single QSO to a Virginia station is multiplied by the number of Virginia multipliers worked by the club members. Each multiplier is only counted once no matter how many times it is worked by the membership.


Benefits include:

Members not making a lot of contacts to many counties and cities benefit from the members who are. Since each club QSO is multiplied by the number of counties and cities the whole club works, every QSO is valuable.

Members who are making a lot of contacts to counties and cities benefit from the additional QSOs from the whole club.

Limiting QSOs to Virginia only encourages the club to maximize contacts with other Virginia stations.

Members traveling to "rare" counties benefit from giving this multiplier to other members.

Members traveling to "rare" counties can make QSOs with otherwise difficult parts of Virginia.

VHF Mobiles who don't usually get a lot of multipliers have their nice QSO counts multiplied by the club multiplier count.

Scoring Method

Here is the method used to calculate the club score for the High Club Virginia QSOs Only plaque. Derived from the official rules at http://www.johnhuggins.com/VQP_HCVQO/plaque_rules.htm

This plaque is computed from the Cabrillo logs. To ensure your log remains eligible and contributes to your club's score do the following:

Make sure your Cabrillo file has the "NAME:" header defined with your name or club name
Make sure your Cabrillo file has the "CLUB:" header defined with your club's full name or whatever abbreviation you and your members agree on - the score is grouped by the name so it must be identical among all member's logs
If "NAME:" is a club name, the value of "NAME:" and the value of "CLUB:" must be identical - you must pick one club to be part of
Make sure your Cabrillo file contains one "QSO:" line for every QSO
So you get full credit for contacts with Mobiles, make sure their call signs in the QSO: lines end with /M

With the logs that pass this test here is how to compute the club's score...

Append the QSOs from each member's log to one list; The result should be a long list of QSOs the total of which is the sum of the parts.
Delete all QSOs not in Virginia (both sides of each VA QSO must be in Virginia)
MobileQSOPoints = MobileQSOs * 3.
CW-DIGQSOPoints = NonMobileCW-DIGQSOs * 2.
PhoneQSOPoints = NonMobilePhoneQSOs * 1.
Collate all club multipliers from all club member's logs.
Delete all multipliers not in Virginia leaving a total not greater than 134
Multipliers = # of Counties and Cities worked by the club in Virginia (134 or less).
ClubScore = (MobileQSOPoints + CW-DIGQSOPoints + PhoneQSOPoints) * Multipliers.
Why?

Creating a scoring method like this gives every operator in a club a chance to benefit. Since an operator who makes just one QSO still gets that QSO's points multipled by the number of multipliers worked by the whole club, their QSOs matter greatly. The High Club Combined does not give such a benefit to the casual operators.

VHF FM operation is historically a big deal during this Party. They regularly make hundreds of QSOs each. What they lack is many multipliers. A club that has some HF operators bringing in many multipliers from around Virginia make the VHF contributions that much more valuable to the final score.

Clubs contain many members with ranges of skill, desire, licence levels, etc. The High Club Combined Plaque simply totals the scores of each individual leaving the bulk of benefit to the few powerhouse stations. The Virginia QSOs Only plaque distributes the benefit and encourages focus on creating and working Virginia stations.




In short, this club award makes the VAQP fun for every club member station, not just the Extra HF stations!